If you follow us on social media or have visited the Bee1 farm in Neath, you will be well aware of our passion for bees!
From our work in the education sector teaching children about bees to our workshops on beekeeping and its connection with mental health and wellbeing, we go to great lengths to inform and spread awareness of these incredible pollinators.
In order to help fund our various initiatives and work in the community, we have launched a catalogue of bee-friendly promotional gifts; all of which are in-keeping with our brand mission; to save the bees!
Our bee-friendly products
Bamboo Eco Mugs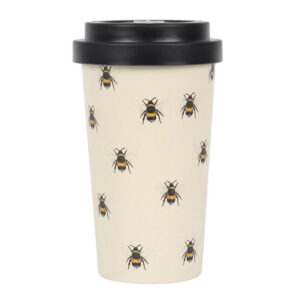 Looking for a sustainable gift of a friend, family member or colleague? if so, this travel Eco Mug is great; especially if they are a coffee/tea lover!
1-10 (7.50 each)
11-20 (6.99 each)
20+ (£5.50 each)
Bee Hotels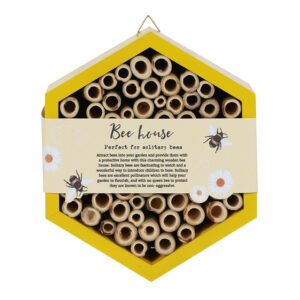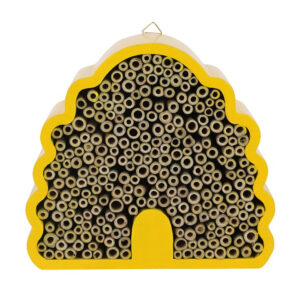 We have a number of Bee Hotels for sale; all differing in style and price. These hotels are ideal for families that want to introduce the subject of bees into their home. They also have a real impact on your outdoor space.
Please refer to our leaflet for prices .
Beekeeping Suits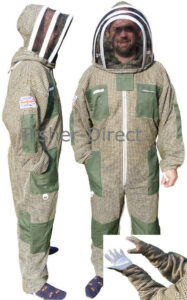 Whether you run a beekeeping company or are just getting into beekeeping as a hobby, having the right suit is essential in protecting you against those stings. The Bee1 branded Beekeeping Suits are high in quality, lightweight and are effective in keeping our buzzing friends at bay.
1-10 (£99.00 each)
11-20 (£89.00 each)
20+ (£84.50 each)
Please note that these suits also come with gloves!
Bee1 Mug & Coaster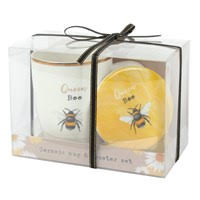 This is a stunning gift set that includes both a bee-designed mug and a coaster. Whether it be a birthday gift or a 'just because' gift, this set will certainly go down a storm.
Jute Bag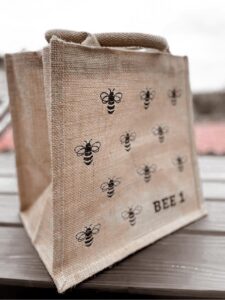 Our Jute Bag is adorned with many bees as well as our logo, showing fellow shoppers that the bag owner cares about the environment and the decline in the bee population.
1 – 10 bags (£4.29 each)
11-20 bags (£3.99 each)
20+ bags (£3.75 each)
Bee1 Lunchbox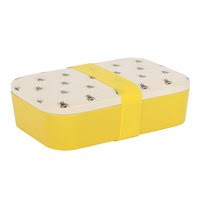 The Bee1 Lunchbox is light, top quality and is made from bamboo; a recyclable and sustainable material.
1-10 (£9.99 each)
11-20 (£9.35 each)
20+ (£8.99 each)
Bee1 Bee Bombs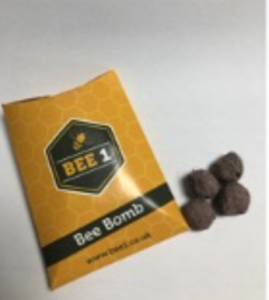 Looking to attract bees to your garden? If so, these Bee Bombs are for you. Combining seeds of flowers that bees LOVE, by buying these bombs you can make the bees happy AND ensure your garden is bursting with colourful flowers.
Bee1 Honey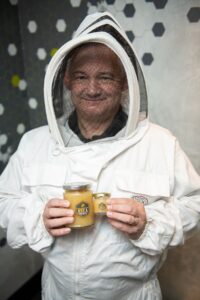 Do you have a sweet tooth? If so, you'll be glad to learn that you can now buy our natural Welsh honey directly through Bee1. Whether on toast, in hot water or drizzled over your parsnips on a Sunday, our honey is DIVINE!
1-10 (Small pots £3.25 each, large pots £7.99 each)
11-20 (Small pots £3.05 each, large pots £7.25 each)
20+ (Small pots £2.89 each, large pots 6.75 each)
Beekeeping Kit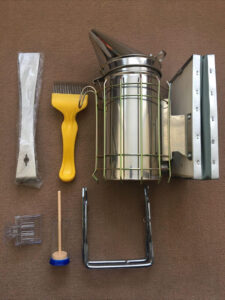 In order to be a good and successful beekeeper, you need the gear! Our Bee1 Beekeeping Kit comprises all the tools you need to be a bee-friendly beekeeper!
1-10 (£45.00 each)
11-20 (£39.50 each)
20+ (£32.50 each)
Other popular gifts include:
Bee1 Plant Pot
Queen Bee Key Ring
Candles
Adopt a bee
Buy bee-friendly gifts
To purchase any of the gifts within our range, contact us today:
Email: Mark.douglas@bee1.co.uk
Email: Booie@bee1.co.uk
Telephone: 07881 517142