Since launching in Summer 2019, our aim has been to educate everyone about how important bees and other pollinators are to our natural ecosystem. Bees became an endangered species in 2018, and it is our duty to raise awareness of their pivotal role on our planet.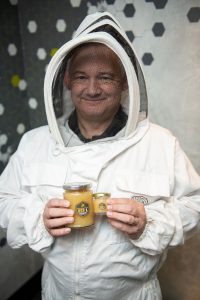 We plan to engage with all sectors to produce environmentally sustainable solutions to help combat our current climate emergency and in turn, reverse the declining bee population. The support from local businesses has enabled Bee1 to facilitate hive sponsorship for schools within our area and deliver curriculum-based science materials to local children. The content has been developed and designed by the Cardiff University, Pharmacology Department. 
"Knowing we are making a difference to the environment and growing the bee population at the same time is quite rewarding" says Mark Douglas, Co-founder, who keeps some of the bees at his apiary in Neath. "To protect and nurture the bee population is so important for our environment, and it's been so welcoming to receive so much support from our corporate partners," says Mark. 
Continually striving to meet the needs of our community, let us introduce 'Bee Well', focussing on promoting positive mental health and wellbeing, delivering mental health and associated training, plus yoga – supporting schools and businesses across the M4 corridor. 
With the support of our corporate sponsors, enabling delivery of our school eco packs, we have managed to sustain in excess of a million bees, deliver workshops to 30+ local schools and increase awareness to thousands of individuals within our local communities – all this in just 7 months.   
"To be shortlisted for best new 'Social Enterprise Business of the Year' within several months of launching the company is a true credit to our concept and aims" says our very own Queen Bee and Founder of 'BeeWell', Debbie Robinson, who will be absent for the awards, visiting Delhi.  
The winner will be announced at the annual awards ceremony at the Brangwyn Hall on March 6th 2020. 
 https://www.business-live.co.uk/enterprise/swansea-bay-business-awards-2020-17592990