Mental health first…saving the planet taking a close second on World Mental Health Day
To promote 'World Mental Health Day 2019', 'Bee1' & little sister company 'Bee Well', delivered an exclusive workshop at Baglan Primary School, highlighting the importance of supporting the mental health and wellbeing of children.  Bee1 donated an extra special gift, surprising the children and staff with a Bee1 'Eco Pack' containing their very own hive, Queen and colony!
Children were given a bee sticker and a bright yellow Bee 1 wristband, displaying the caption 'Mental Health Matters' and wore these with pride, backing 'World Mental Health Day'.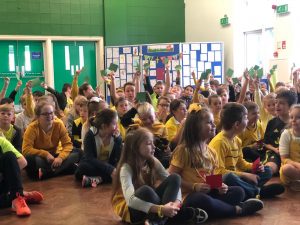 Alan Flowers, the newest addition to 'Bee Well', launched the session, providing a powerful insight into positive mental health. Alan explained the significance of seeking help from a friend, teacher, parent or another suitable person like a GP, for matters of your mind that may be troubling you.  Following some interactive games, Alan encouraged the children to use a green and red card system, and identify the differences between happy and sad situations. Their awareness skills were second to none.
Bee 1 Co-Founder, Mark Douglas, presented the school with their 'Eco-Pack', kindly donated by local leading plumbing and heating company, PlumbwiseWales
The children were delighted to play their part in saving the planet and thrilled at the prospect of welcoming c50,000 'Baglan' bees to the school, buzzing around and pollinating c200,000,000 flowers!  They were equally excited to be tasked with naming their School Queen bee who will lead their colony, and cannot wait to try honey made by their own honey bees!
Mark said "our primary objectives are to educate our future generations on how we can all help the environment whilst also introducing them to good mental health practices at a very early age. It's encouraging to see schools and businesses collaborating to address these key issues and having lots of fun along the way"
Bee1's 'Queen Bee' and Yoga Practitioner, Debbie Robinson, drew the workshop to a soothing end by leading a yoga, meditation and mindfulness practice, and the morning was brought to a close after some of the children fell asleep during the yoga nidra meditation pose 'savasana' which was evidently a little too relaxing!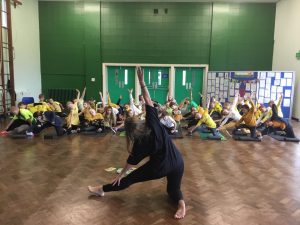 The benefits of Yoga, relaxation and good mental health shouldn't be ignored, and it was so uplifting to observe the children benefitting and they all seemed very happy. It was no surprise that they found it to be their favourite part of the workshop.
Prior to returning to their classrooms, the children were given an empty jar.  Debbie suggested that "once in a while, when the children feel happy, they should write the positive thoughts on a piece of paper and collect them in their jars.  If they ever feel sad or down, they can easily return to those times of happiness from their little 'Jar of thoughts'."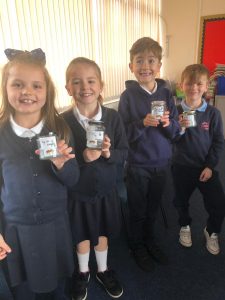 School Teacher Mrs Nicola Giles said, 'Educating young children about matters of mental health, wellbeing, looking after ourselves and looking after our world are vital lessons for them to flourish into successful citizens. Bee1 and Bee Well certainly deliver these important lessons within a creative and fun environment that both the children and staff at Baglan Primary School thoroughly enjoyed. We will remember the messages and continue to develop these lessons with the continued support of Bee1 and little sister company, Bee Well.'
Without the encouragement, support and kind donations from our Corporate Sponsors, this invaluable programme would not be possible.  We would like to thank Bee Well, Bee 1, Derwen Group, Total skip hire ltd, Moruzzi, Bronleigh House, PC1, Erin Stephens (Rhos Primary School), Elenah Stephens & Alexa J Lewis (Cwmtawe Comprehensive School) & Normsbury Marketing.
If you would like more information on how you or your business/school can get involved and join our 'beevolution', please contact us via social media platforms or via our website.
We promote the Well-being of Future Generations Act and it gives us the ambition, permission and legal obligation to improve our social, cultural, environmental and economic well-being. You can also find more info on our mission and help us support the act here.